Important Announcement: While you CAN purchase the G+C Preschool Level 2 Bundle and Kindergarten Morning Binder, the other items included in the Level 2 Bundle will not be available for individual purchase until closer to Sept. Thank you for your patience!
Read my Refund Policy Here
Independence Day for Preschoolers (Ages 3-7) Unit Study (Digital)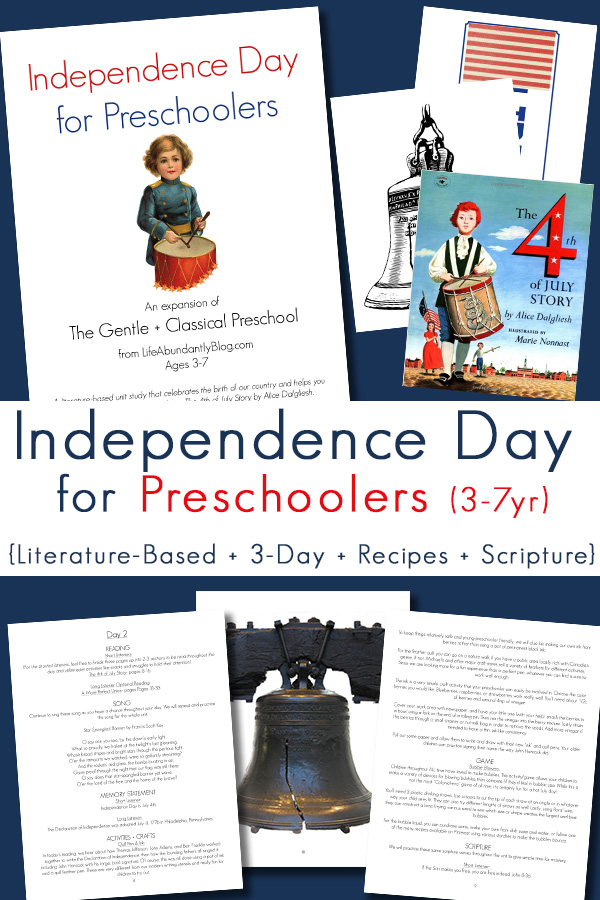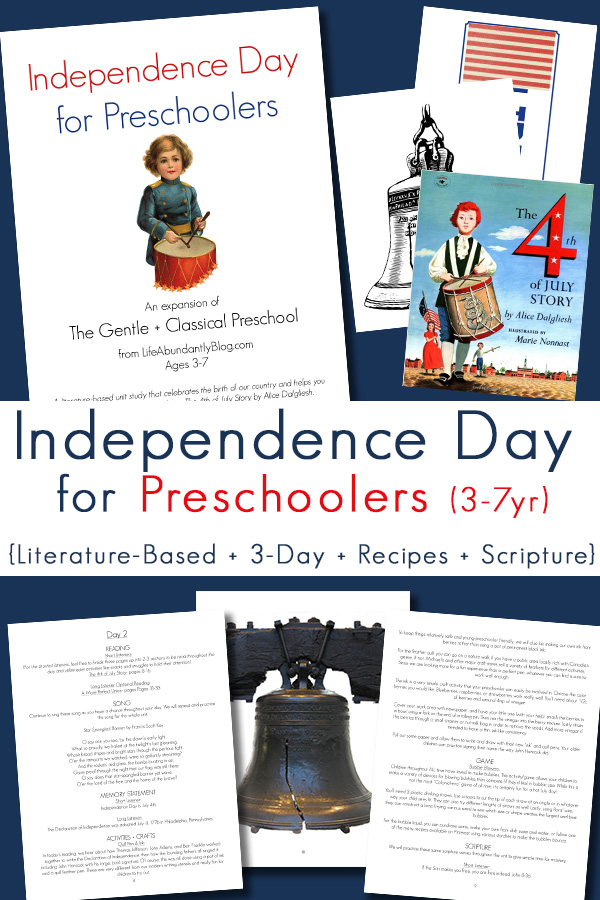 Independence Day for Preschoolers (Ages 3-7) Unit Study (Digital)
If you are looking for a way to celebrate Independence Day this 4th of July with both FUN games and creative activities alongside great books and patriotic poetry- look no further!
This Independence Day for Prechoolers Unit Study has been created as a stand-alone unit to deepen your little one's understanding of our nation's birth, at a level they can understand. It has also been created as an expansion to Units 19-21 from Level 1 of The Gentle + Classical Preschool.
What's included:
Projects + Activities

Games

Memory Statements

Poem

Song

Scripture

Prayer

Copywork

Recipes
In this rich, literature-based study, we will utilize the book The 4th of July Story written by Alice Dalgliesh. This book has engaging images to spur the imagination of our youngest listeners while also having concise, age-appropriate information for our older preschoolers. If you wish, I have also scheduled the book A More Perfect Union by Betsy Maestro and Giulio Maestro. This book is longer in length and deeper in context while still having excellent illustrations.
Scheduling
This unit study has been developed for a 3 day schedule. However, the content is absolutely rich enough to be expanded to 5 days or longer. Spend as much or as little time on it as you like. It's created in such a way that the reading builds upon itself over 3 days. However, you can pick and choose any of the other portions to utilize in your exploration and celebration of our American heritage.
Fine Details:
©LifeAbundantlyBlog.com.

You do not receive a physical product. Purchase is for PDF digital download only.

Please do NOT share this content with anyone.

Download link expires in 24 hours.

For best results, set printer to "fit to media" or "scale to media" so nothing runs outside the margins